Bob Vila is the home improvement expert widely known as host of TV's This Old House, Bob Vila's Home Again, and Bob Vila. Today, Bob continues his mission to help people upgrade their homes and improve their lives with advice online at BobVila.com.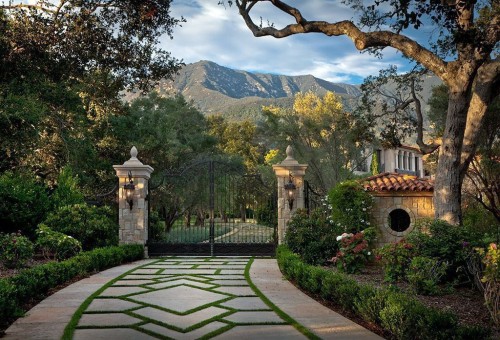 Check out his tips for a dream driveway.
The driveway does more than lead your car from the garage to the curb and back again. Whether it's a straight shot paved with asphalt or a curved course laid in brick, a visitor's positive first impression of your home depends on smart driveway design.

Plan ahead
Unlike some other "curb appeal" elements — outdoor lighting, for instance — the driveway is a long-term investment that deserves careful consideration and thoughtful planning. Soil type, drainage and local climate must all be taken into account, no matter what type of driveway you plan to install — be it brick, gravel, pea stone or concrete pavers.
Maintenance matters
It may be tempting to choose a driveway material on the basis of aesthetics alone, or with your eye only on the price tag. But since you'll be living with your decision for years, it's wise to compare different materials' maintenance requirements. For example, asphalt, poured concrete and concrete pavers must be resealed every couple of years to protect the driveway's color and finish. The look of gravel driveways, by comparison, remains consistent over time, though every five years or so their stones must be replenished. My advice, in short: Before deciding on a driveway material, ask yourself how much effort — and how much money — you feel comfortable committing to its upkeep.
Pavers and permeability
More and more popular are paver driveways. These carry a relatively high upfront cost of installation, but maintenance demands and costs are relatively low. Composed of interlocking cement pavers, a driveway of this type typically performs better than asphalt or concrete under cold and wet conditions. Even if pavers shift, crack or chip, they're easy and inexpensive to replace. But don't count out asphalt and concrete, both of which have seen advancements in recent years. Nowadays you can get versions of these materials that are permeable and less vulnerable to cracking in areas with tough winters.
Stormwater management
No matter what material you choose, minimizing your driveway's area and designing it thoughtfully can help control issues of pollution, erosion and flash flooding. Crown the surface and plant rain gardens in low areas to catch and filter water runoff. Avoid draining gutters into your driveway and to keep your basement dry, be sure to slope any paved areas away from the house.
Brick is beautiful but expensive, so many homeowners don't consider it. Of all those mentioned here, however, a brick driveway is the option most likely to improve a home's resale value. So when designing your new driveway, consider not only immediate factors — looks and cost — but also lasting concerns, such as maintenance, the environment and the question of when or if you'll move.
Source: http://www.nwherald.com/2013/03/29/design-the-driveway-of-your-dreams/ast6nv7/