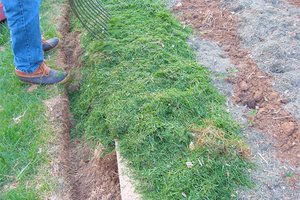 Spread grass seed evenly over bare patches. Image: Home Joys
The best time to patch bare or thin spots is when the hot, dry days of summer have given way to cooler temps. Follow these simple steps:
1. Remove any dead grass.
2. Break up the soil with a garden trowel.
3. Add an inch of compost and work it into the soil.
4. Add grass seed that's designed for shade or full sun, depending on the area you're working on. Spread the seed evenly across the bare patch.
5. Use a hard-tooth rake to work the seed into the soil to a depth of about half an inch.
6. Sprinkle grass clippings over the patch to help prevent the soil from drying out.
7. Water the area; you'll want to keep the patch moist, so lightly water once a day until the seed germinates and the new grass gets about one inch tall.