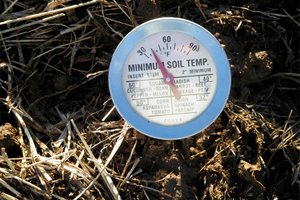 Depending on your weather, your grass will now start growing in earnest, so be ready for the first cutting. Don't mow when the grass is wet — you could spread diseases, and wet clippings clog up lawn mowers.
Fertilizing: Both spring and fall are good times to fertilize your lawn. In the northern third of the country, where winters are cold, fertilize in fall — cool weather grasses go dormant over winter and store energy in their roots for use in the spring.
For the rest of the country, apply fertilizer just as your grass begins its most active growth. For best results, closely follow the application directions on the product. You'll spend about $50 to $75 per application for an average 1/4-acre lot.
Aeration: Aerating punches small holes in your lawn so water, fertilizers, and oxygen reach grass roots. Pick a day when the soil is damp but not soaked so the aeration machine can work efficiently. Read More about lawn aeration.
Pre-emergent herbicides: Now is the time to apply a pre-emergent herbicide to prevent crabgrass and other weeds from taking root in your lawn. A soil thermometer is a handy helper; you can pick one up for $10 to $20. When you soil temperature reaches 58 degrees — the temperature at which crabgrass begins to germinate — it's time to apply the herbicide.